FREE

Copy of Our Book
All Systems Go:
Secrets You Need to Know About Hiring A Top-Notch Computer Consultant For Hassle-Free Computing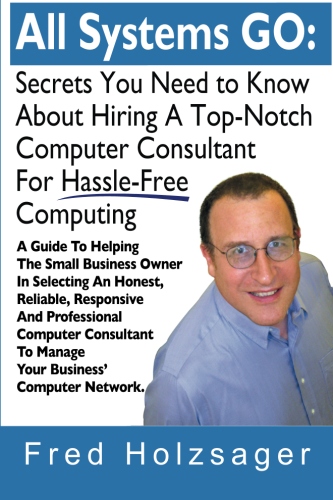 In this book you'll discover:
The five types of technical support available, and the pros and cons of each
Mistakes to avoid when choosing a consultant
12 warning signs that you hired the wrong consultant
How to avoid being disappointed, getting ripped off, and/or paying for substandard work
Viruses, worms, spyware and hackers: what you need to know to protect your company from invasion
The differences between Backup and Disaster Recovery and why they are important to your business
Why it pays to be proactive about technology instead of reactive
20 revealing questions you should ask any computer consultant before hiring them
Everything you need to know about negotiating a win-win deal
How to turn technology into a competitive advantage instead of a drain on your time, money and resources
How to become more efficient, effective and profitable using technology
How Do I Get a Copy?
If you are currently our client, please call the office at 201-797-5050 and we will send you a FREE copy.
If you are not yet our client but would like to meet with us to see if we can help you with your computer needs, please call to schedule an appointment at 201-797-5050 and we will give you a FREE copy when we meet.
To purchase the book, please Click Here.